We were invited to curate a winter road trip, art event and wilderness sleepover experience, presented by Cradle Mountain Hotel for Dark Mofo in June 2015.
The experience included:
An off-beat road trip to Cradle via some of Tasmania's lesser-known attractions, with mixtape by Jonnine Standish

Opening night of a new exhibition by contemporary artist Ash Keating, launched by Bob Brown and Zeta the alpaca.

A curated in-room camping experience, with custom-made tent, virtual campfire and curated TV channels.

Pop-up indoor forest bar.

A visit to Dove Lake and Waldheim Chalet,

A bestial banquet designed by UK culinary artists, Bompas & Parr, with wild fare hunted and prepared by Tassie chef Ross O'Meara.
Welcome to The Wild
"The event is about the idea of 'the wild' and 'wilderness' and what it represents for us as humans.
Our thought is that 'the wild' is not so much something 'out there' but a kind of projection of the uncivilised, unconscious mind – the 'wilderness inside' if you like. The event plays with this relationship between humans and their wild side in various ways, including through wilderness retreats, camping, landscape painting, hunting and adventure travel. The Tasmanian wilderness, and Cradle Mountain in particular, has been, and still is, used for all of these activities, so it's an appropriate location.
Road trips represent freedom and give a certain permission to go wild and be adventurous. The archetypal trip is about the idea of getting away from civilisation into the wild – as a way to find yourself. This is also how 'wilderness' gets used through things like adventure tourism, wilderness retreats, extreme sports, camping, etc – the idea that getting in touch with nature is somehow more authentic than living in civilisation, a place that you can find the 'real you'.
So we're basically curating a journey – in this case a road trip adventure tour – into the heart of The Wild, both literally and metaphorically"
The Unconscious Collective.
EVENT
Photos by Remi Chauvin / Mona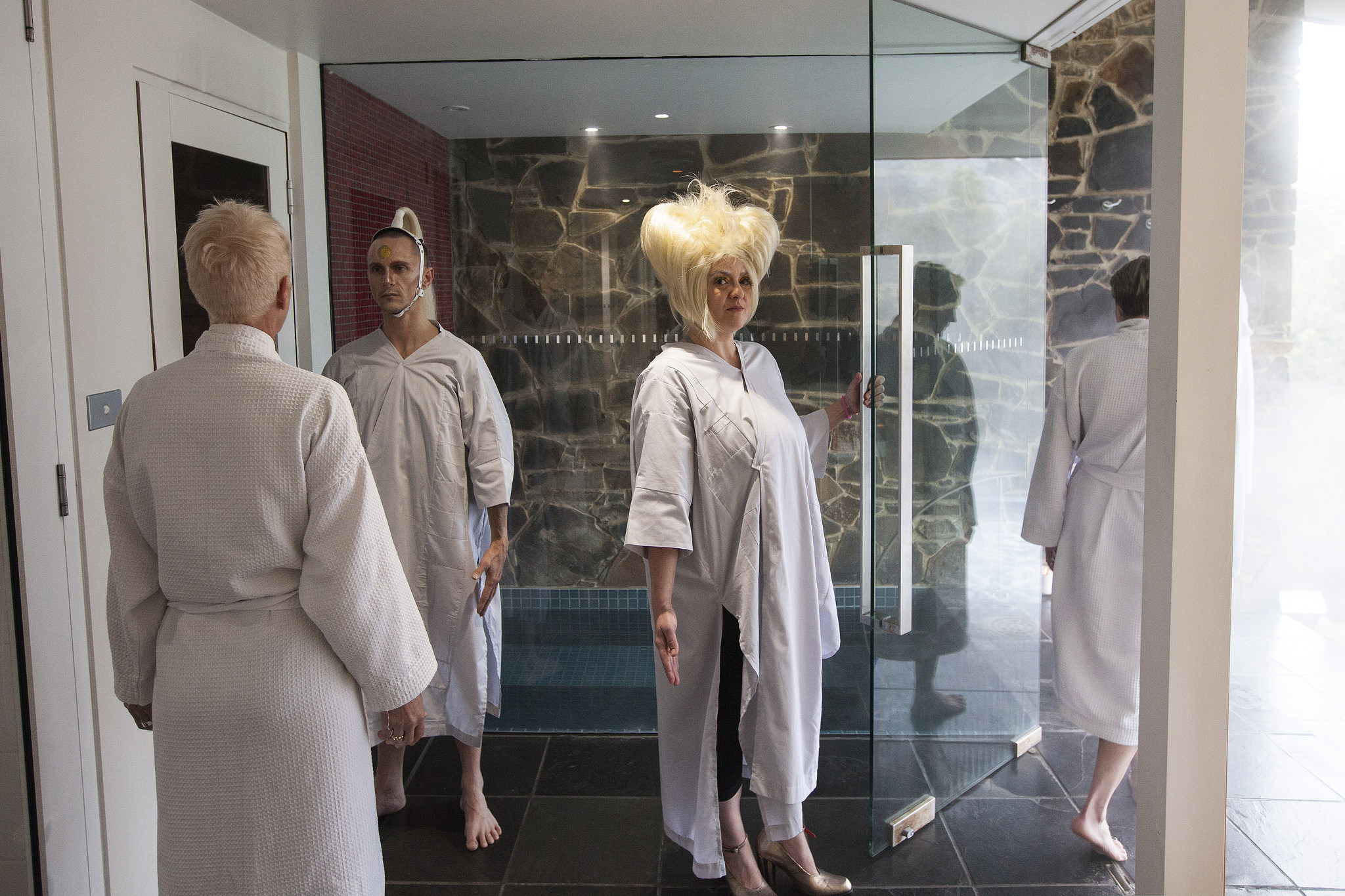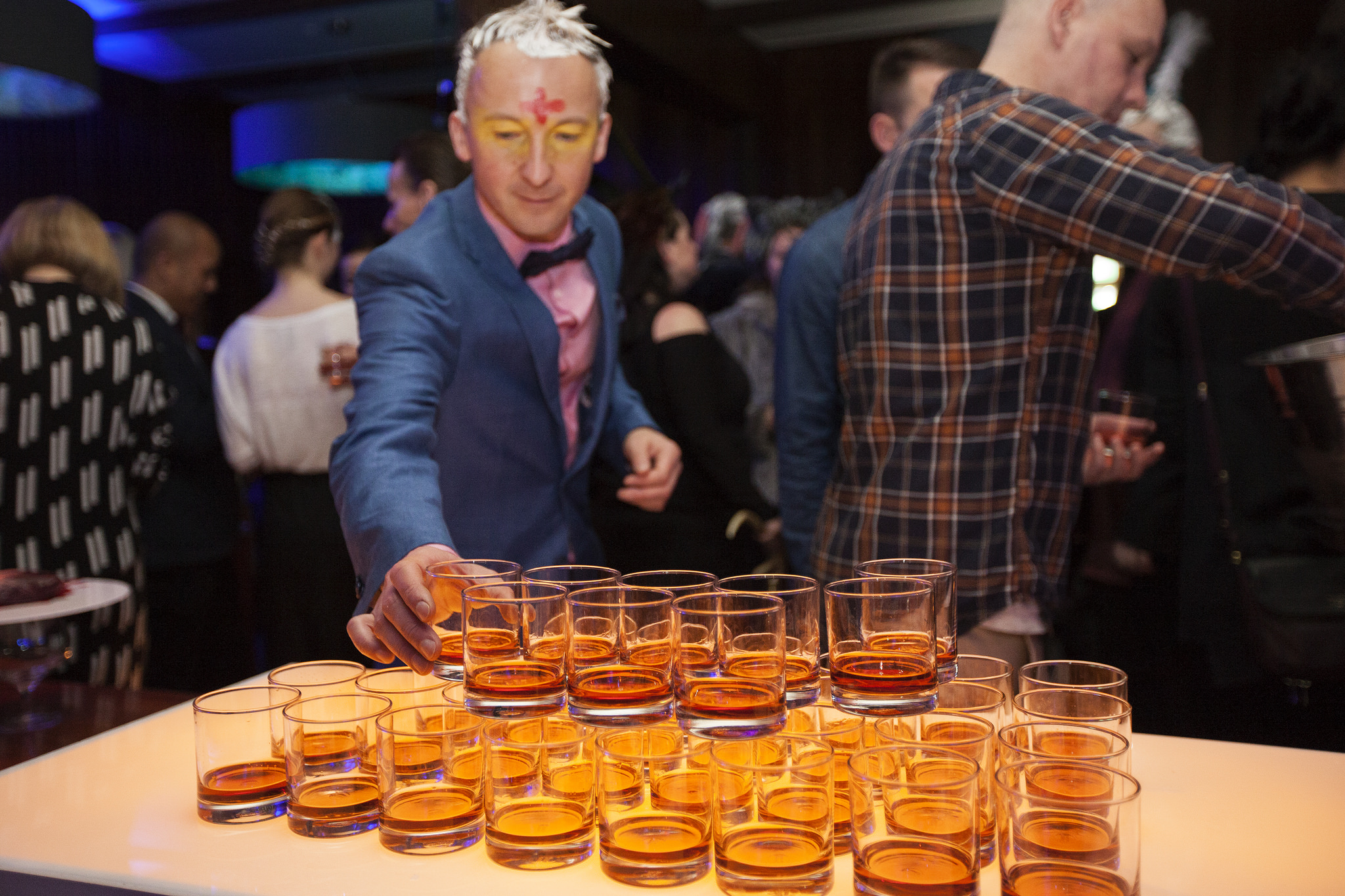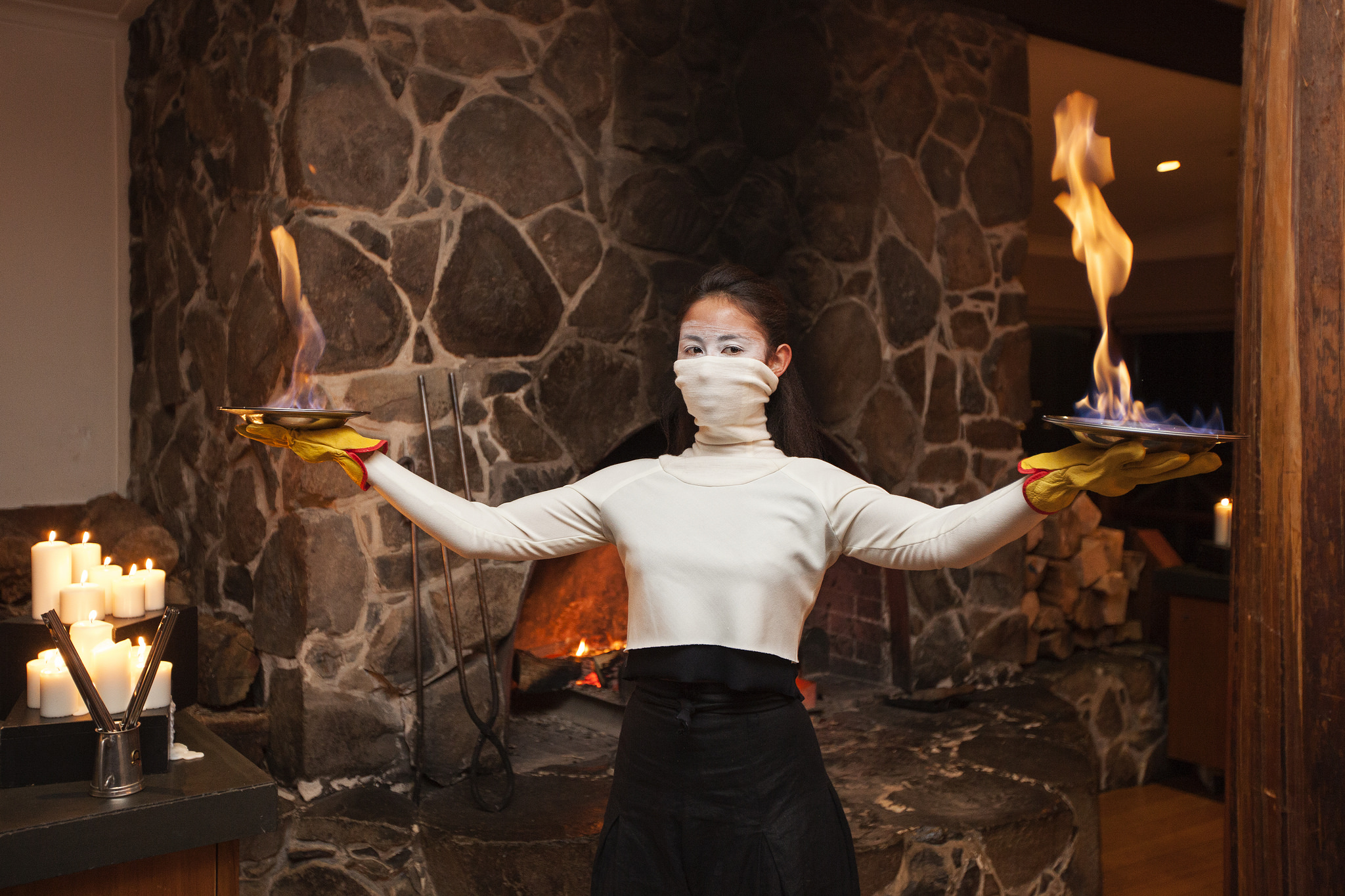 VIDEO
By Carlo Zeccola / ABC Arts
CREDITS
Unconscious Collective
Michelle Boyde and David Patman, creative direction and design
Matt Warren, sound artist
Jason James, lighting artist
Guest artists
Bompas and Parr Culinary enfants terribles
Ross O'Meara Master chef, hunter, and Bruny Island TV icon
Ash Keating Paintings
Jo Cook and Chloe Proud Food curation, sourcing and service
Danielle Brustman, set design
Charlotte Bell Food styling
One Eyed Jacks Lumbersexual troubadors
Wolf Von Trapp Campfire lullabies
Regional Curse and Rites Wild Sonic ambience
Simone Paige Jones Pagan priestess
James Andrews, Holly Durant, Benjamin Hancock and Lilian Steiner Spirit animals
Rebecca Horne and Douglas Brook Naturally therapeutic hosts
Jonnine Standish Road trip DJ
Minna Wight Ivory tickling
Sabrina Evans, Jack Hancock and Laura Li Costume
Stephen Wood Spirit animal portraits
Shu Umeura and Sfumato Hair and ungrooming
Lou McLaren and Stephanie Elkington MUA
Neville Bannister Taxidermy Furry creatures
Greg Hatton and Neil Patman Chainsaw wizadry
Log cabin legends
Leigh Carmichael Inspiration and vision
Daniel MacMillan Sponsorship
Nicole Smith Event manager
Glenn Dulihanty Production management
Dan Rooke Production coordinator
Dark Mofo Comms team Marketing magic
Ella Knight All-round legend
Alison Wilkes Artist liaison
Bob Brown Guru
Cradle Mountain Hotel management and staff Assistance above and beyond the call
Bear hugs
BG Firearms, Bothwell Exercise Group, Poatina Chalet, The Emporium (Sheffield), Yvette's Cafe (Sheffield), Neville Bannister Taxidermy